The Australian Research Council (ARC) Centre of Excellence for Children and Families over the Life Course (the Life Course Centre) is a national research centre investigating the ways in which deep and persistent disadvantage endures within families and across generations.
We generate evidence-based research to develop new knowledge, technology and practices to benefit those living in, or at risk of, disadvantage. Bringing together a multi-disciplinary network of researchers and partners throughout Australia and internationally with a shared focus on addressing entrenched disadvantage, the Centre aims to:
Identify the drivers of deep and persistent disadvantage
Develop and trial new solutions in policy and practice
Build capacity across academic, government and non-government organisations
Develop data and technical infrastructure and innovation
Destigmatise disadvantage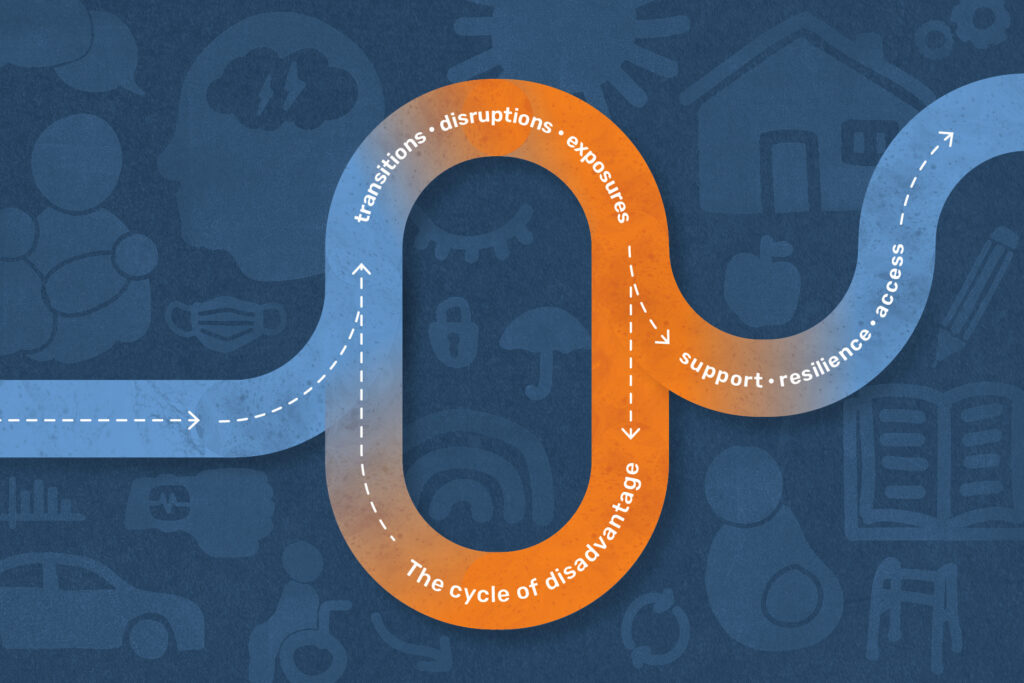 The Life Course Approach
The Life Course Centre is committed to leveraging evidence-based research to develop innovative new practices to benefit people living in disadvantage. Our mission is to identify the mechanisms underlying the transmission of disadvantage across generations and within families over the life course and to translate our findings to enable the delivery of policies and programs with real-world impact.
At the time of securing its initial ARC grant in 2014, the Life Course Centre was only the second seven-year social science Centre of Excellence to be funded by the ARC. We were the only ARC Centre of Excellence from 2014 to secure funding for a further seven-year period in the 2020 round. The Australian Government's continuing investment in the Life Course Centre is an investment in a sustained focus on transformative social science research and the translation of this research into effective policies and practices for disadvantaged Australians.
Governance
The Life Course Centre's major resource is people: our researchers, students, partners and stakeholders. In the Life Course Centre, we support our people by delivering transparent and inclusive governance within the framework of a strong strategy and shared vision. The Centre's governance structure is designed to allow a flow of information and ideas to the Centre Executive.
Strategic Plan
Our strategic objective is to identify the causes and mechanisms of deep and persistent disadvantage, to develop and trial innovative new policy and practice solutions to reduce disadvantage, to train the next generation of research leaders, and to build capacity across government, non-government and community organisations.
Annual Reports
The Centre produces an Annual Report each year as part of the Australian Research Council Centre of Excellence reporting requirements. View our archive of Life Course Centre Annual Reports dating back to the Centre's commencement in 2014.
Watch the launch of the new centre
March 2022