The Life Course Centre has welcomed eminent visitors since 2014, for both short and long visits. Visitors have delivered specialised training, run workshops, provided mentoring, given public talks, and collaborated on major research projects.
We hope to be able to welcome visitors back to the Centre very soon, once national and international borders re-open and it is safe to travel.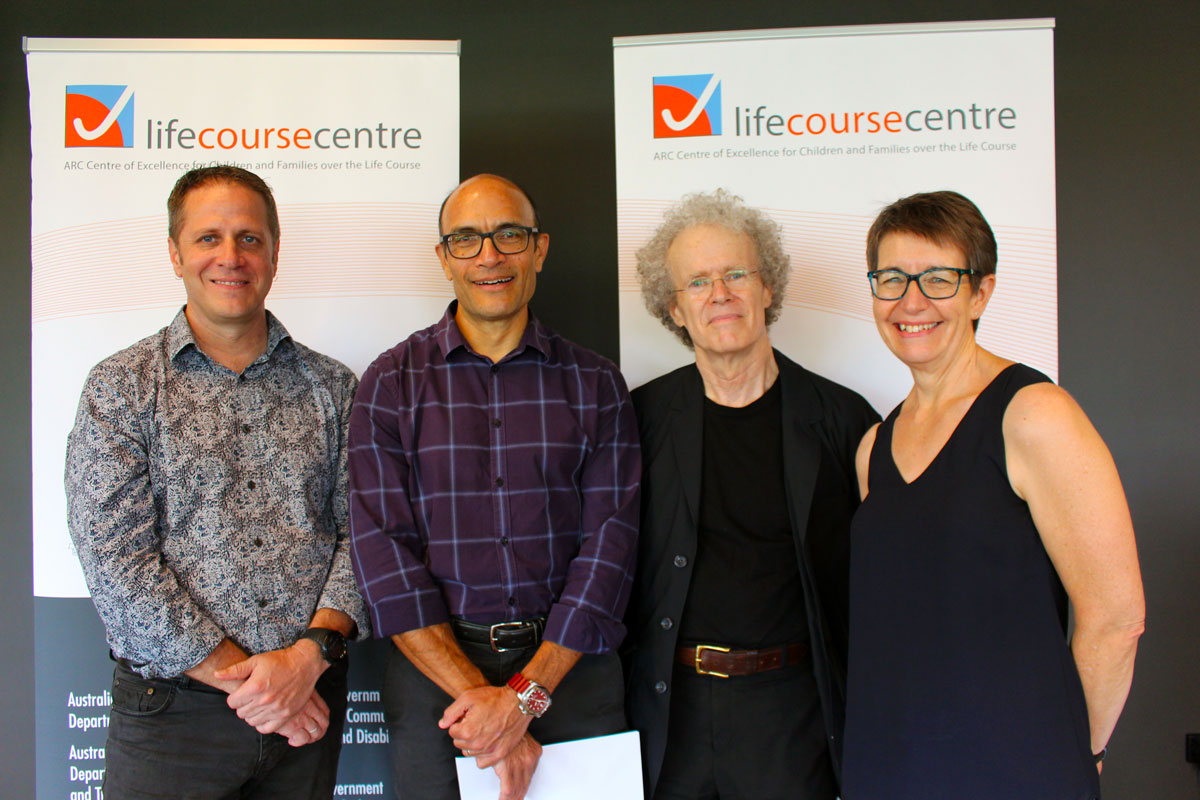 2021 – Now
2021
Professor Peter Siminski
University of Technology Sydney
Attended the Life Course Centre Research Retreat in February during a sabbatical in Semester 1 at University of Sydney.
2014 – 2020
Name
Home Institution
Visiting Node
Dr Carmel Hannan
University of Limerick, Ireland
The University of Queensland
Prof Shelly Lundberg
University of California at Santa Barbara
The University of Sydney
Jacob Kirksey
University of California, Santa Barbara
The University of Western Australia
Prof David B. Wilson
George Mason University
The University of Queensland
Dr Jan Kabátek
The University of Melbourne
The University of Queensland
Prof Marco Caliendo
Potsdam University
The University of Sydney
Tim de Vries
Utrecht University, Netherlands
The University of Queensland
Prof Simon Burgess
University of Bristol
The University of Sydney
Prof Stacy Ehrlich
University of Chicago
The University of Western Australia
Prof Ian Walker
Lancaster University
The University of Sydney
Dr Lisa Calderwood
UCL Institute of Education, London
The University of Queensland
Francis Mitrou
The University of Western Australia
The University of Queensland
Ha Nguyen
The University of Western Australia
The University of Queensland
Associate Prof Orla Doyle
University College Dublin
The University of Sydney
The University of Queensland
Prof Heith Copes
The University of Alabama at Birmingham
The University of Queensland
Dr Daniel Kamhofer
Heinrich-Heine-Universität Düsseldorf
The University of Sydney
Hannah Schildberg-Hoerisch
Heinrich-Heine-Universität Düsseldorf
The University of Sydney
Prof Rebekah Coley
Boston College
The University of Sydney
The University of Queensland
Dr Matteo Sandi
London School of Economics and Political Science
The University of Queensland
Prof Andrew M Jones
University of York
The University of Sydney