We bring together diverse research disciplines, advanced methods and cutting-edge data to tackle disadvantage and improve life course opportunities and outcomes for all Australian children and families.
As an Australian Research Council Centre of Excellence, the Life Course Centre is committed to delivering transformational research on the complex, multi-dimensional problem of disadvantage. Building on the foundational knowledge of our 2014–2020 research programs, our research is broadening and deepening understanding of how disadvantage takes hold in particular places, at particular times, for particular people.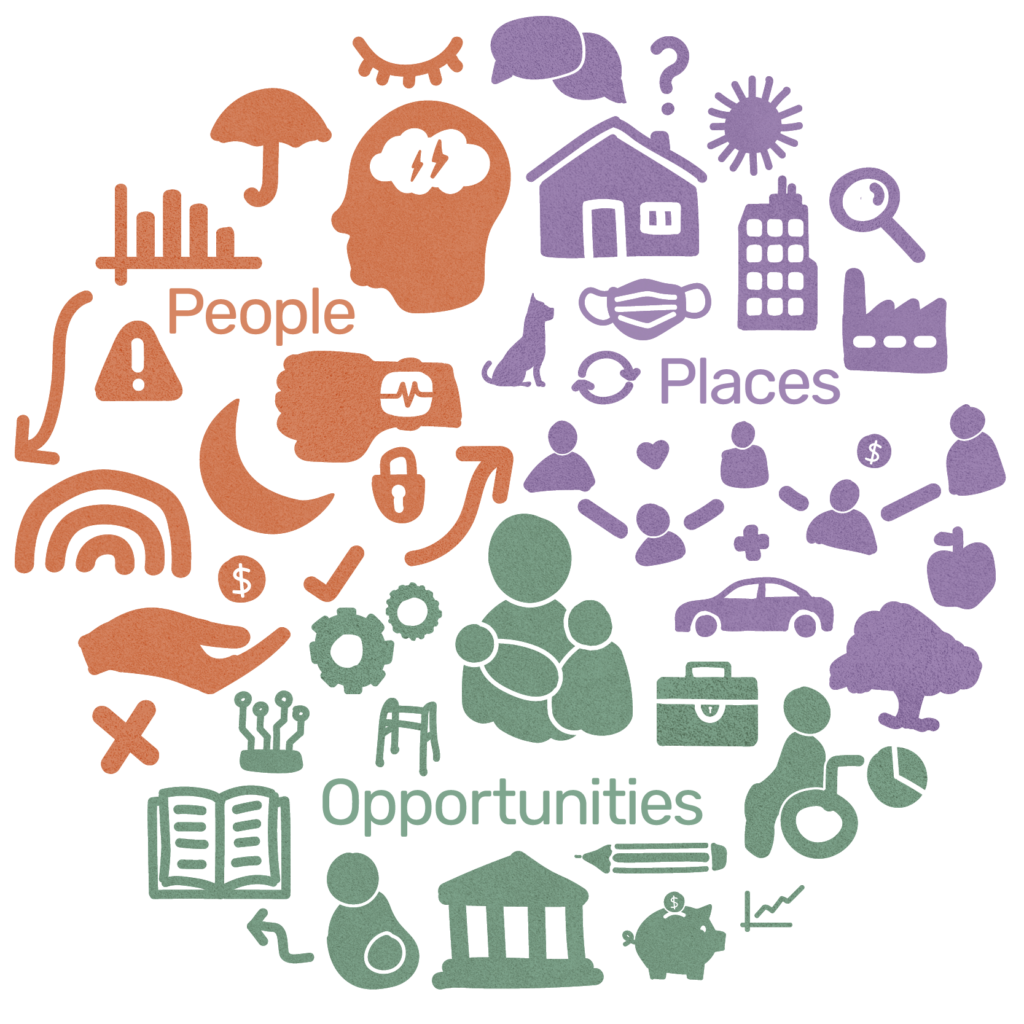 Research programs
Our three research programs are producing in-depth knowledge of how disadvantage is entrenched in Australian society across the different levels of the individual, the community, and the system. The three tiers of People, Places and Opportunities not only reflect the factors comprising disadvantage, but they are also the key mechanisms for overcoming it. Through this structure, our research defines and measures the lived experiences of disadvantage in more detail than ever before, and produces innovative responses tailored to individual and community contexts. The evidence, capacity, partnerships and impact we deliver will inform personalised, community-based policies and programs to benefit Australian children and families suffering from disadvantage in their daily lives.
Publications
Academic publications are a key research output from the Life Course Centre. Our research is focused not only on describing and understanding the key causes of disadvantage but also on developing innovative solutions to address them.
Working Paper Series
The Life Course Centre Working Paper Series showcases important and well-timed research from across our networks and is the 'go to' place for the most up-to-date research on social disadvantage.
Resources
As part of our commitment to making the research of the Life Course Centre more accessible, our Resources highlight key areas of research focus and findings.
Current research projects
What separates the Life Course Centre from other research initiatives is our core translational component. By examining how people construct their lives we can identify the drivers of disadvantage, and also the critical life course junctures and opportunities for innovative public policy and social interventions.
Media
Catch up on recordings of webinars, podcasts, videos and more from researchers across the Centre.
Past research
Our previous research programs from 2014 to 2020 was organised into three interrelated research programs: Disadvantage Systems (how disadvantage occurs); Human Capabilities (who experiences disadvantage and why); and Social Transformation (what to do about it).
The connections between the programs provide an important feedback loop. Testing new solutions to target disadvantage teaches us more about how it happens and who is affected.